Curtis W. Daugherty
Curtis was raised in Visalia, graduated from Mt. Whitney High School and College of the Sequoias. He earned a Bachelor of Science degree in Business Administration—Computer Systems and Applications and Mathematics from California State University, Fresno and holds a Juris Doctorate degree from San Joaquin College of Law.
After college, Curtis initially worked in sales where he learned the arts of communication, persuasion and performance. These skills allow him to effectively communicate your position and convince judges, juries and mediators that you are right.
Curtis began his legal career in 1998 as a paralegal, during which time he specialized in employment law, personal injury, consumer protection, civil litigation, the discovery process and managing large volumes of information and documents. As a result, he has the insight and abilities to accomplish your objectives as quickly and inexpensively as possible. As an attorney, Curtis is uniquely prepared to effectively and economically resolve your issue. Legal experience, the arts of communication, persuasion and performance—These make up the corner stone of his legal practice and are an asset for you.
Curtis's focus is on informal resolution because it is faster, less expensive and often more effective than litigation. But when the parties cannot reach a settlement, Curtis is fully prepared to aggressively litigate on your behalf.
Call 559 798-6500 today, and take the first step toward resolving your legal matter with the help of an experienced attorney.
To post a review on our Google+ page, you must sign in with your Google+ account.
Please turn your sound on and view our message: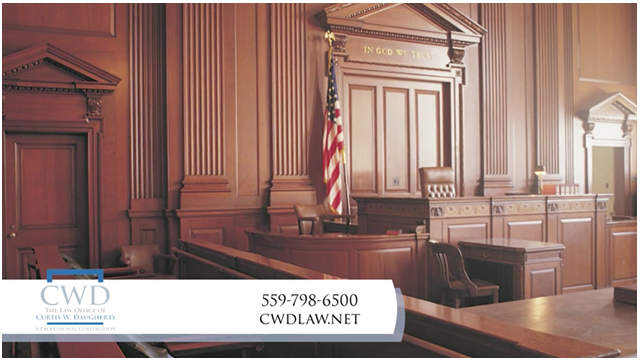 Negotiate when you can. Fight only when you must.
It's not just a motto. It's a hard and fast rule, and it often saves our clients money.
Serving Tulare, Kings and Fresno Counties
CURTIS W. DAUGHERTY, PC
3600 W. Mineral King Ave.
Suite D
Visalia, California 93291
---
CALL US:
Phone:   559 798-6500
Fax:        559 798-6501
Email:    julia@cwdlaw.net
---
HOURS:
Monday through Thursday
8:00am to 5:00pm
Friday 8:00am to Noon
Evenings and weekends by appointment
---
FIND US:
Curtis W. Daugherty is a member of the Family Law Section of the California Bar, and the Litigation Section of the American Bar Association.
---